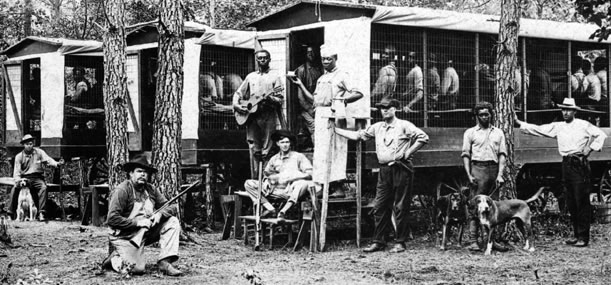 We are reading Toni Morrison's
Beloved
this week, and the section on Paul D's experience on a chain gang reminded me of a book (and documentary), titled
Slavery by Another Name: The Re-Enslavement of Black Americans from the Civil War to World War II
, that reports on the systematic use of imprisonment and chain gangs to suppress blacks after Emancipation and to coerce unpaid labor. This work is also relevant to Ellison's
Invisible Man
, specifically, the character Brother Tarp, who served on a chain gang for many years. His "souvenir" leg chain connects his experience to the experience of slavery, which is also symbolized by a leg chain on display at the narrator's school (modeled on Tuskegee) that comes earlier in the novel.
The book,
Slavery By Another Name
,
by Douglas Blackmon, won a Pulitzer in 2009 (see blurb below). PBS aired the documentary in January 2013. For more on the book and to view the documentary, go to
http://www.slaverybyanothername.com/
Pulitzer Prize
New York, NY (April 20, 2009) — Columbia University awarded its 93rd Annual Pulitzer Prize in the General Nonfiction category to "Slavery by Another Name: The Re-Enslavement of Black Americans from the Civil War to World War II," by Douglas A. Blackmon (Doubleday), a precise and eloquent work that examines a deliberate system of racial suppression and that rescues a multitude of atrocities from virtual obscurity.